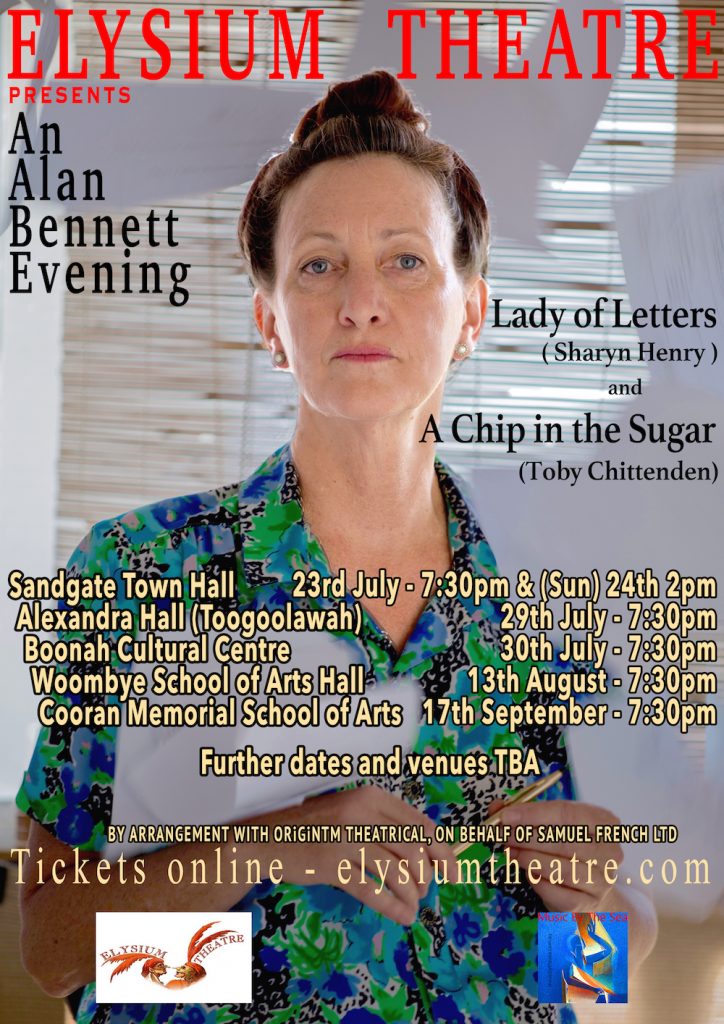 MEDIA RELEASE
Elysium Theatre presents:
An Alan Bennett Evening


(BY ARRANGEMENT WITH ORiGiN TM THEATRICAL, ON BEHALF OF SAMUEL FRENCH, LTD.)


Toby Chittenden returns to Elysium Theatre to play Graham Whittaker, in A Chip In The Sugar.
Sharyn Henry plays Irene Ruddock in Lady of Letters.
Graham Whittaker (A Chip In The Sugar), finds life becoming complicated as his mother, with whom he still lives, reunites with an old flame, Frank Turnbull. Graham becomes increasingly disturbed as Frank, whose outspoken, right-wing opinions, conflict with Graham's muddled liberalism as Frank becomes an ever-increasing influence on Vera. After a brief courtship, Frank proposes to Vera but he is hiding a secret. When Graham finds out, he confronts his mother and her perceived hopes of happiness are destroyed…but are they?
Irene Ruddock (Lady of Letters), is a single, middle-aged woman, who loved and cared for her elderly mother until her passing. Irene observes the world from her window and is not afraid to speak/write, her mind. Frequent letters to anyone and everyone, to remedy the social ills she sees around her, ultimately land her in prison; the final straw being her suspicion of a neighbouring couple whom she suspects of neglecting their child. Irene recognises a deterioration in her mental health, raises this and her suspicions with her doctor, who instead offers her a prescription to help her 'manage' her worries. Prison offers Irene new experiences and new perspectives.
ALAN BENNETT has been a household name in British theatre ever since he starred and co-authored the satirical review Beyond the Fringe with Dudley Moore, Peter Cooke and Jonathan Miller in 1960 at the Edinburgh Festival. His writing frequently focuses on the everyday and the mundane: lower-middle class pretensions, obsessions with class, cleanliness, propriety and sexual repression.
Bennett casts a loving as well as a critical eye on the objects of his irony revealing what underlies the apparently trivial language of his protagonists.
The characters he writes about are rooted in a particular social environment but the issues they raise are of more universal appeal: the essential isolation of human beings within the protective social roles they have adopted or had thrust upon them, the gap between self-awareness and the capacity to change, the crippling power of propriety. All of these themes are relayed through a tone that is simultaneously ironic and tender.